Transcript Formatting:
Cromex would be happy to help you format transcripts. If you have PDF and would like it to be converted to ASCII text, we would be able to help you. We charge as low as 50 cents per page to convert PDF to ASCII.
Text-Video Synchronization:
Cromex provide Text-Video Synchronization services at a very low cost. We charge $5 per video hour with 24 hour turn around. Synchronize digitized videotaped deposition testimony to the corresponding written transcript of the proceedings. This process creates the advantage of eliminating cumbersome and time-consuming linear searches through hours of videotape when trying to locate a particular deposition excerpt. After identifying important sections of written testimony, these random-access systems immediately retrieve and display the video corresponding to that text.
Process for File Transfer and Time Stamping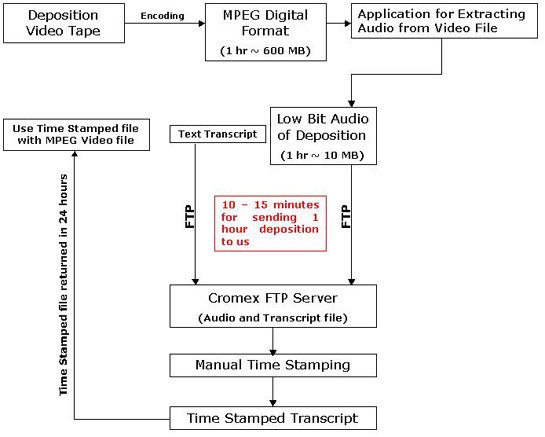 You encode video tape deposition into MPEG digital format.
1 hour digitized MPEG video file is typically 600 MB.
Since for time stamping we require only audio from deposition, we recommend extracting low bit audio from MPEG file.
Using application such as "Audio Extractor from One Stop Soft", you extract low bit audio from MPEG file.
Audio file after extraction is almost 1/60th in size of the original video MPEG file. Low bit 1 hour audio file is typical 10 MB in size.
You send audio file and text transcript to us by FTPing to our servers. Uploading 1 hour audio file (~10 MB) and transcript takes 10 - 15 minutes.
We download audio file and text transcript.
We manually time stamp transcript using Trial presentation software and create time stamped database.
We send time stamped file back to you by email.
You then use time stamped file with digitized MPEG video file.
One of the major concern most of the customers has is sending digitized MPEG files to us. For time stamping we require only audio from deposition. It's possible to extract audio from MPEG file using commercial software. After extraction, audio file is very small in size and can be easily sent to us by FTP or by email.
Cost Benefit

Because we are based out of Mumbai, India, we are able to provide time stamping services at a very competitive price. India has a pool of millions of English speaking college graduates. Because of abundance of graduates available, we are able to provide time stamping services / hour at a very low cost.